I received a phone call last week from an old high school friend that I have not seen in eight years. She was coming to town. Yeah! So we decided to do brunch. I had a great time getting ready for her visit and preparing a menu.
I know quiche is a popular brunch item, but I cannot bring myself to eat it. I have not found a recipe yet that I really like so I decided to come up with my own brunch dish.

I was thinking of using pastry puff, but already had a pastry dish on my menu so I opted for phyllo dough. Now some people are intimidated by this stuff, but the secret is moisture. I prefer a wet paper towel to drape over the exposed dough in order to keep it from drying out.

I cut the dough into squares big enough to fit into a muffin pan.
I melted butter, (yum)

Then I layered the sheets into the muffin pans, brushing with butter between each sheet. About 8 sheets per muffin cup. It's not looking too appetizing at this point, but I promise it will be.
I cooked up some breakfast sausage, 1 pound, from our pig that we bought from a local 4-H'er.

And then scrambled up some eggs, that we also buy local, about 12 and a splash of water mixed in.

Side note: I really debated cooking these beforehand or just putting them in the cups raw and letting it bake in the oven with the dough. I decided to scramble them before because they would need more time to bake than the dough and I didn't want to risk burning the dough or having raw runny eggs.

Shred some cheese, about a cup or so.

I mixed the cheese, eggs and sausage and divide up into the muffin cups.

Then I baked them at 350 until they were a pretty brown. Sorry, I didn't pay attention to the time.

I topped with green onion and served. They were great. I'm so glad I ditched the quiche :)

We had an awesome time visiting and hanging out. It has been way too long and I need to be more proactive to not let that happen again. Good friends and Good Food, always a sure bet for a good time!!
I am linking this post to Fireflies and JellyBeans Show Off your Stuff #49 Here: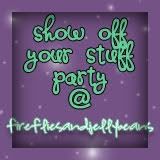 Go on over and check them out!